✨Summer sale-50% ✨ LED solar floor light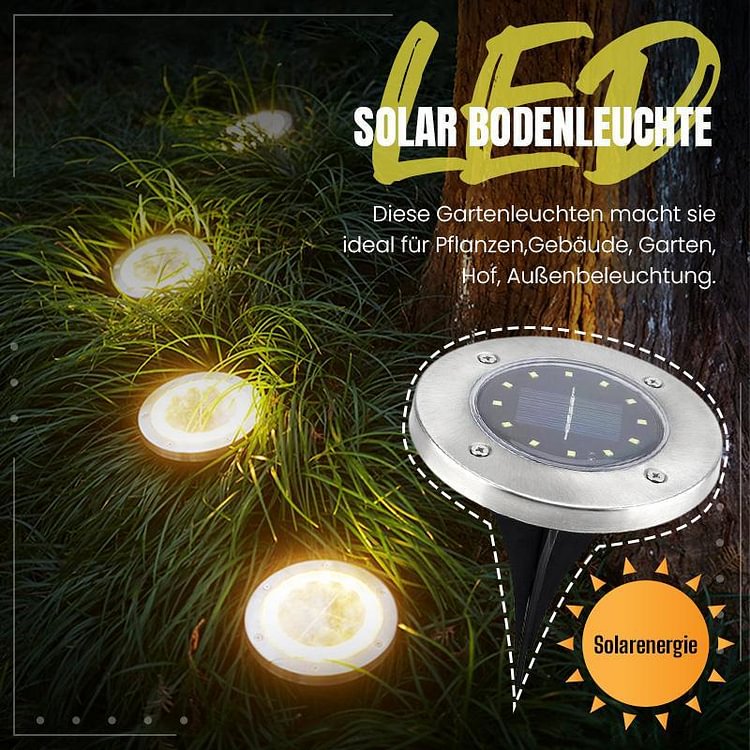 ✨Summer sale-50% ✨ LED solar floor light
Attention !!!
8 LED, 10 LED is not quantity, but style.
1 pc means 1 solar floor lamp.
Our solar outdoor lights do not require wiring, installing them on the ground would be safe for children and pets, these garden lights make them ideal for plants, buildings, gardens, yards, outdoor lighting.
PROPERTIES
BEAUTIFUL GARDEN DECORATIONS
This versatile floor lamp with powerful LED lighting is a practical choice for your garden. The parts can be easily connected in next to no time.
ENERGY-SAVING AND ENVIRONMENTALLY FRIENDLY
Each solar light has 8/10 LEDs with advanced energy-saving LED solar light. The built-in 600 mAh battery can provide light for approx. 6-8 hours after a full charge without additional cables being laid.
AUTOMATIC ON / OFF, LIGHT SENSOR
These lights turn on automatically when it gets dark. So you always have bright lighting on your path or around your garden.
IP65 WATERPROOF
IP65 waterproof, made of stainless steel, can be sealed well, which is suitable for outdoor use. Especially on a rainy day.
EASY TO TURN OVER
The perfect lights for your front path, approach, garden, etc. Simply place wherever light is needed at night. No wiring or battery replacement; uses free solar energy.
SPECIFICATIONS:
Solar panels: 2v 100mA.
Charging time: 6-8 hours
Working time: 8-12 hours
Waterproof level: IP65
Mirror diameter size: 74mm.
Total height of the lamp: 140 mm.
Material: stainless steel + ABS plastic.
Item size: diameter: 120X height 23mm.
Rechargeable battery: AAA 600MA nickel-metal hydride battery.
SIZE:
SCOPE OF DELIVERY:
1 x LED solar floor light
Note:
Please make sure the lights are turned on before placing them in the sun.
The more solar energy the lights get during the day, the longer they light up at night.